Pennies from Heaven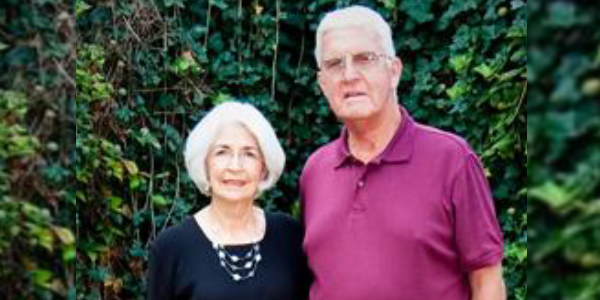 Joyce Williams of Lebanon, Missouri, collects pennies. It's a habit she and her late husband Larry started in 1995 following the death of their only son Bryan.
"I like to think of them as pennies from heaven," Joyce explains. "When I find a penny, I imagine Bryan sending it my way and saying, 'I love you, mom.' I kiss each one before saving it in a jar."
A growth on Bryan's neck was the first sign that something was wrong. Eventually, a biopsy revealed he had Non-Hodgkin's Lymphoma. It was a devastating diagnosis for the family, who had lost an older son prematurely at birth.
"But Bryan was optimistic," Joyce explains, "and he went on with his life despite drastic chemotherapy and radiation treatments."
Throughout the next year, when they cared for Bryan in their home, their doctor suggested hospice. The clinical care, comfort and moral support they received from Mercy Hospice team during the subsequent weeks had a profound effect on the couple.
"I'm not sure we could have gotten through it without them." recalls Joyce.
Bryan passed away that year at the age of 31. It is a day that Joyce will never forget and the beginning of a long journey through shared grief. Larry, a retired highway patrol officer, took a job driving a school bus to keep busy. Numb with grief, Joyce was unable to return to work.
Together, the couple attended a grief support group at Mercy. Their hospice team provided ongoing support and encouragement.
Joyce and Larry continued placing pennies in one jar. When the jar overflowed, an idea began to blossom.
The couple wanted to do something meaningful in Bryan's memory with the proceeds from his life insurance policy. They remembered the excellent hospice care Bryan received and how they were supported after their son's death.
The Williams donated $250,000.00 to Mercy Health Foundation to create a Hospice fund in Bryan's memory, a choice Joyce is confident Bryan would approve. The gift's purpose is to create a fund in Bryan's memory. It is the largest hospice gift Mercy Health Foundation has received to date.
"Imagine," says Joyce with a sparkle in her eye, "if every person in the area in need of hospice care could get it, thanks to Bryan's pennies from heaven."